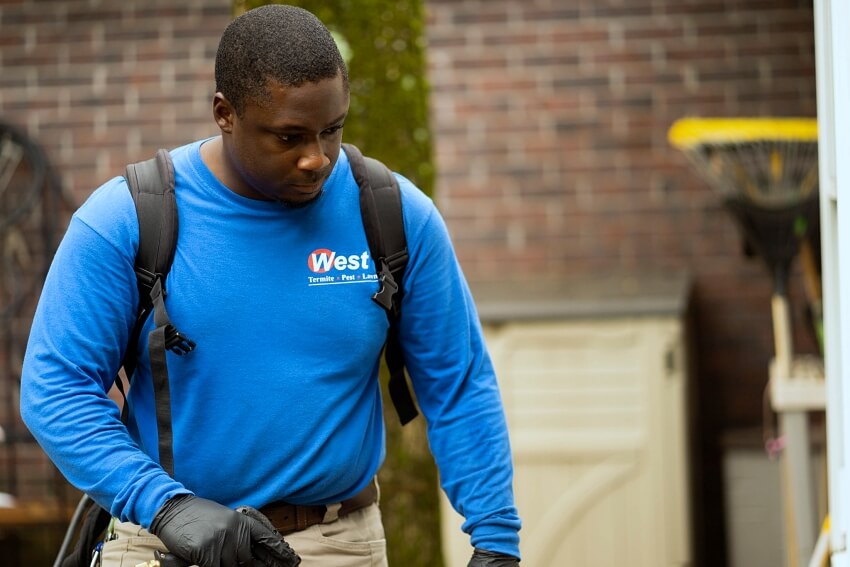 Best spider control service in Arkansas & Oklahoma 
We know discovering spiders in your home can be downright unsettling. While most spiders are harmless, just seeing one can make your skin crawl. From the infamous brown recluse spiders to common garden spiders, the exact treatment will depend on the type of spider in your home.
Spiders can often indicate the presence of other pest; that's why we start our spider control service with a thorough inspection of your home's interior and exterior to develop a treatment plan based on the specific spider species, additional pest infestation, and your budget. 
The West Termite, Pest & Lawn process
Assessment
There are many species of spider, and proper treatment will depend on the type and size of your infestation. We'll perform a thorough inspection of your home's interior and exterior prior to developing a treatment plan.
Treatment
The exact treatment will depend on the type of spider in your home but may include the use of multiple application methods, including dusting, and aerosols along with baseboard, crack, and crevice treatments. Treatments may require the treatment of wall voids, attics, and crawlspaces.
Follow Up
At West Termite, Pest & Lawn, we stand by our service! If you still have spider sightings after treatment just let us know. We also have several customizable pest control treatment plans that can help you prevent pests all year long.
What to expect with West Termite, Pest & Lawn
When you work with West Termite, Pest & Lawn, you're getting top-notch pest control with the tri-state area's friendliest and most knowledgable spider control experts. All of our technicians are armed with the latest pest control technology, equipment, treatments, and best practices.
Spiders are usually relatively harmless – but we know that doesn't mean you want to share your home with them! eliminate the possibility of a spider bite or unwanted sighting by calling West Termite, Pest & Lawn as soon as possible!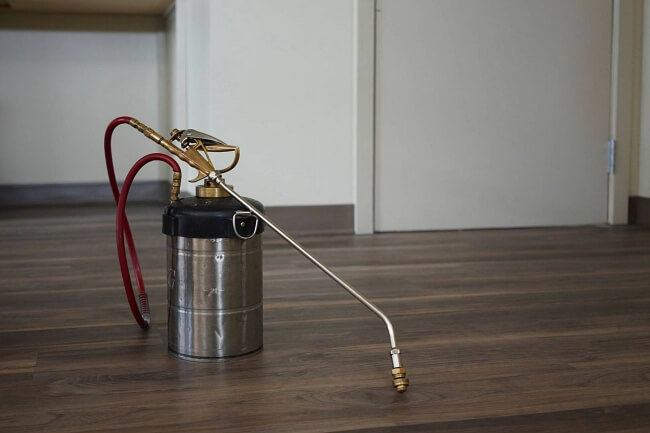 Frequently asked spider control questions
How do I keep spiders out of my home?
To keep spiders from entering your home it is important to conduct exclusionary practices. First, be sure that windows, doors, and other points of entry are caulked and weatherstripped. Next, check the exterior of your home for spider webs and remove them with a pole or vacuum cleaner.
Are spiders dangerous?
Most species of spiders aren't dangerous. However, a handful of species are highly poisonous and therefore pose a serious danger to human health. The most common venomous spiders you'll encounter in Arkansas and Oklahoma are the brown recluse and the black widow, both of which can deliver bites that require immediate medical treatment, especially for children.
How can I tell if a spider is poisonous?
The black widow is clearly recognizable from the large red hourglass-shaped marking visible on their abdomen. The brown recluse has a violin-shaped marking on top of the thorax. If you encounter a spider in your home that you believe is poisonous, exercise extreme caution. Consider contacting West Pest Control for expert assistance. If bitten, save the spider if possible for medical identification.
How do I get rid of a spider infestation?
Spiders are one of the hardest pests to get rid of without the proper equipment. Start by conduction exclusionary practices and sealing you home from any outdoor nexts. Use a vacuum cleaner to scoop hard to reach webs and so you keep your distance from potentially poisonus spiders. Call West for professional assiatnce if you believe the spiders might be dangerous.
What people are saying about West Termite
We think we're pretty great, but don't take our word for it! Take a look at what our satisfied customers have to say about our service!
Very professional and polite.
Always the best customer service
Staff was super nice and very helpful.
Great service. True professionals.